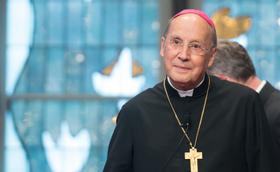 "You can be saints in your ordinary lives just by doing God's will daily" (article by Catholic News, from Singapore)
October 7 is the feast of Our Lady of the Rosary. The entire month of October is dedicated to the Mother of God under this advocation.
In his homily for the opening Mass of the Synod of Bishops, Pope Francis, citing St. John Paul II, said: "Error and evil must always be condemned and...
A new article in the series on developing a strong Christian personality. "If we are to judge ourselves truthfully, we need to acquire self-knowledge....
Thirteen years ago, Pope John Paul II canonized Josemaría Escrivá. A photo gallery with scenes from that day. Each photo is accompanied by words from...
The October Leaflet is now available for "iPray with the Gospel," a new resource to help young people grow in their prayer life.
Some media outlets have recently made reference to the alleged abuse of a minor at Gaztelueta School, near Bilbao, Spain.
"Our Lady guides us to the shortest and surest path to always obtain God's mercy," the Prelate assures us, echoing the advice of Saint Josemaria and...
A new anniversary of the founding of Opus Dei and Pope Francis' call to assist those who have been forced to flee their homeland are the central...
You go on attending some classes daily, merely because in them you acquire a certain rather limited knowledge. How is it then that you are not constant in going to the Master, who is always ready to teach you the science of interior life, with its eternal content and saviour? (Furrow, 663)
What is a man or the greatest reward on earth worth compared with Jesus Christ, who is always ready to be with you? (Furrow, 664)
To meditate for a while each day and be united in friendship with God is something that makes sense to people who know how to make good use of their lives. It befits conscientious Christians who live up to their convictions. (Furrow, 665)
Those in love do not know how to say good-bye: they are with one another all the time. Do you and I know...